What is GHS?
The Globally Harmonized System of Classification and Labeling of Chemicals or GHS is an internationally agreed-upon system, created by the United Nations.
GHS requires manufacturers, importers, downstream users and distributors of chemical substances and mixtures to adopt the standard by 1st June 2015.
GHS is set to unify communication of hazardous products and replace existing country specific regulations.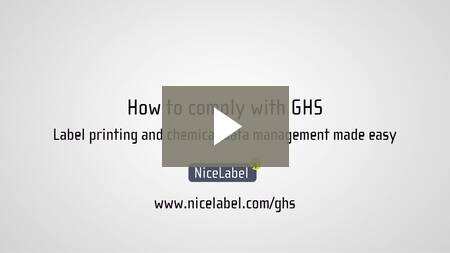 Get the Free GHS Desktop Solution Pack
The GHS label template
The standardized elements included in the GHS label are
Product identifier*
Signal word*
GHS pictograms*
Hazard statements*
Precautionary statements*
Supplier information*
Additional customer requirements
* Mandatory elements of the GHS labelling regulation
NiceLabel includes a graphical label designer that allows business users to easily design GHS compliant label templates.
GHS pictograms
Hazard pictograms are one of the key elements for the labelling of containers. Two sets of pictograms are included within the GHS:
One for the labeling of containers and for workplace hazard warnings.
Second one for use during the transport of dangerous goods.
Either one or the other is chosen, depending on the target audience, but the two are not used together.
The regulations specify different minimum label and minimum pictogram sizes depending on the capacity of the container.
Learn best practices for GHS compliance labeling
GHS label design challenges
GHS labels have some specific challenges. NiceLabel helps you overcome these challenges in a simple way; without custom coding or endless amount of label template variations.
Space constraints: NiceLabel can wrap text around pictograms so that you can use all available space.
Legibility: With the auto-fit function, NiceLabel dynamically adjusts the font size for optimal space use. You can set the minimum and maximum size.
International language (Unicode) support: you need different languages on the same label.
See the label below for more details.
Create a robust system
To create a GHS compliant labeling system you need to look beyond meeting basic template demands. Besides designing all required label elements, you need to ensure:
Users will always print the right data.
Controlled access to label design templates.
Support for different languages (Unicode) on the same label.
Easy long-term maintenance of label templates.
Information on labels and safety data sheets is alligned.
NiceLabel products include all required design and security features. Our experts and a global network of partners can help you evaluate, implement and support a sustainable and robust system.
Secondary container GHS labeling for the workplace
NiceLabel has developed a free and simple Cloud solution that allows anybody to print GHS compliant labels from their browser. This free solution is particularly suitable for smaller suppliers or laboratories that require the use of secondary containers such as bottles, flasks, cans or beakers, which is often the case at hospitals, universities and in many other businesses.
Enterprise GHS compliance for global deployments
Over the past 20+ years NiceLabel has helped many large global enterprises in all industries, including chemical, reduce the complexity of labeling. Our track record, industry insight and best practices ensure quality for deployments at any scale. Our next-generation software solutions - based on the unique configure-don't-code approach - help you achieve quality and performance while reducing costs.
Try our free online printing solution now
Videos
GHS Label Designing - Text Wrap
Learn how NiceLabel's design software allows the wrapping of text around a neighboring GHS pictogram
Play
Automate & Centralize GHS Printing
Consolidate your global GHS labeling enterprise onto one centralized platform with seamless ERP integration
Play
GHS Label Lifecycle Managment
NiceLabel's Control Center Enterprise manages large printer networks and controls administrative access to labels
Play