Print free PTI compliant labels now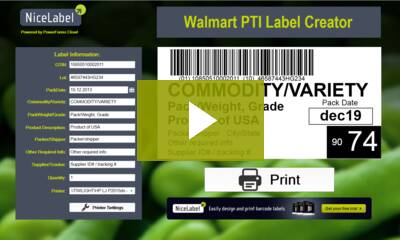 Effective January 1st 2014, all of Walmart produce suppliers were required to use case labels compliant with the Product Traceability Initiative standard.
Suppliers can meet PTI case labeling requirements
NiceLabel includes a pre-designed PTI label
Use the supplied voice pick code inside the label template
Customize and personalize label designs for your company
Drive any printer of your choice
Print free PTI compliant labels
You're welcome to use our free online PTI label printing application. You'll need the following information for your PTI product labels:
GTIN, lot and packing date
Product type and description
Product weight and packer identification
Supplier and tracking ID numbers
Voice Pick Code
PTI hopes to achieve full traceability of produce, at the case level, from source to store. Use of the voice pick code permits warehouses to reach near-perfect traceability without significant productivity or equipment cost impact.
The free online PTI solution automatically generates the VoicePick code
The code is calculated from GTIN, lot and pack date information
The VoicePick code automatically regenerates any time you change the above values
Print online or download your solution
You can use our online printing application print to any locally installed printer. Alternatively, you can download our PTI compliant solution to your local system, and connect it to your product database.
Quick compliant online printing
Connect the local solution to your product information database
Fewer manual entry fields reduce the human error in printing
Videos
Free PTI Cloud Label Printing
See how to print compliant Produce Traceability labels free from a web browser.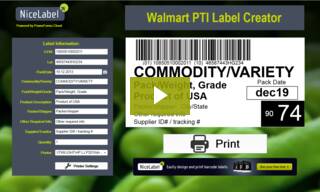 PTI Label Design Breakdown
NiceLabel offers both case and pallet label templates for produce traceability compliance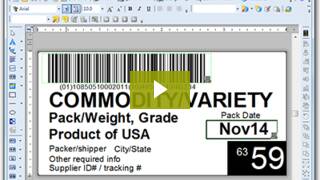 PowerForms Webinar
See a NiceLabel PowerForms demonstration converting a label into a printing application
Play