Label design, print and management for growing companies
NiceLabel Control Center Pro is a label design, printing and management solution that allows companies with multiple users to build a secure, reliable and efficient labeling system. Centralized template storage, role based access and customized printing applications streamline label design, eliminate printing errors and unauthorized label changes.
Learn more about modules, control, design and printing features.
Slide2
What makes us different?
Control and security streamline labeling processes and minimize risks
NiceLabel Control Center Pro utilizes a centralized database repository with built-in role based access. Instead of risking unauthorized changes on a shared network drive, Control Center provides a secure solution for designing, storing and managing label templates. These security features ensure consistent labeling quality, maximum efficiency and minimize the risk of intentional or accidental errors.
What is included
Slide3
Control
Centralize control, eliminate errors and streamline labeling
Control Center - web administration module
Only authorized template changes
Control Center's security features prevent unauthorized personnel editing, printing or deleting label templates and printing forms.
Browser based access
The browser-based user interface enables company-wide access to designers and administrators.
Easily manage user profiles
Administrators can easily setup user profiles for design, printing or administration.
Traceability and audit trails
Manage and report all printing activity and consumables usage by label template, user, printer, date range and more.
Centralized concurrent licensing
Centralized concurrent licensing eliminates the hassle of activating the license on individual computers.
Real-time printer management
Control Center provides a real-time overview of all connected printers and clients allowing IT support to quickly resolve downtime issues.
Slide4
Label design
Easily comply with customer and internal labeling requirements
Designer Pro - the award winning label designer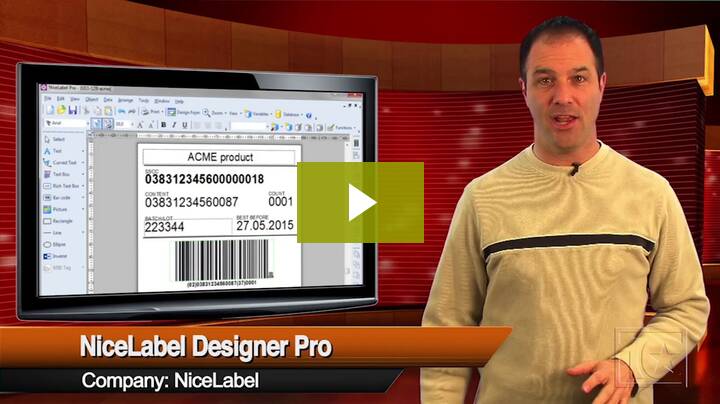 Every design feature you will ever need
Pre-designed templates to speed up your compliance label design process.
A broad range of linear and 2D barcodes.
An easy label design process optimized for labeling and bar coding, not reports.
Simplify for greater agility
Fewer label designs - label templates are portable across 2500+ different printer models and brands.
Flexibility and agility because you can add new designs within minutes or hours, not weeks.
Slide5
Label printing
Eliminate printing errors
PowerForms Desktop - drag-and-drop application designer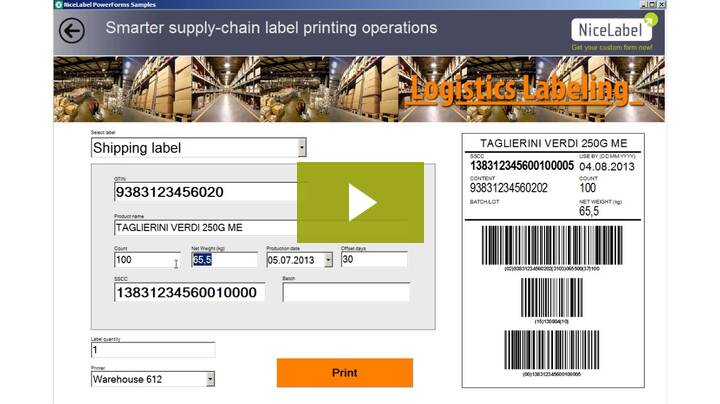 Simplify your label printing process
PowerForms allows you to create error-free printing applications.
It allows you to easily adapt the printing interface to your business and user needs. Only purpose-built solutions minimize manual data entry, eliminate human error and increase efficiency.
Create reliable barcode label printing applications without any programming. 
Eliminate label printing errors
Select the database record, see the label preview, and the printer status, and then print your labels. 
Include tight data-entry validation constraints and reduce manual keying errors.
Disable printing when the printer is in error state avoiding label misprints and duplicate serial numbers.
Print preview displays an exact real-time label representation as you key data or select database records.
Slide6
Simplify and take control of your labeling